Truly Hard Seltzer Introduces Orange Slices - a Taste of Soccer Nostalgia and a Toast to The U.S. Women's National Team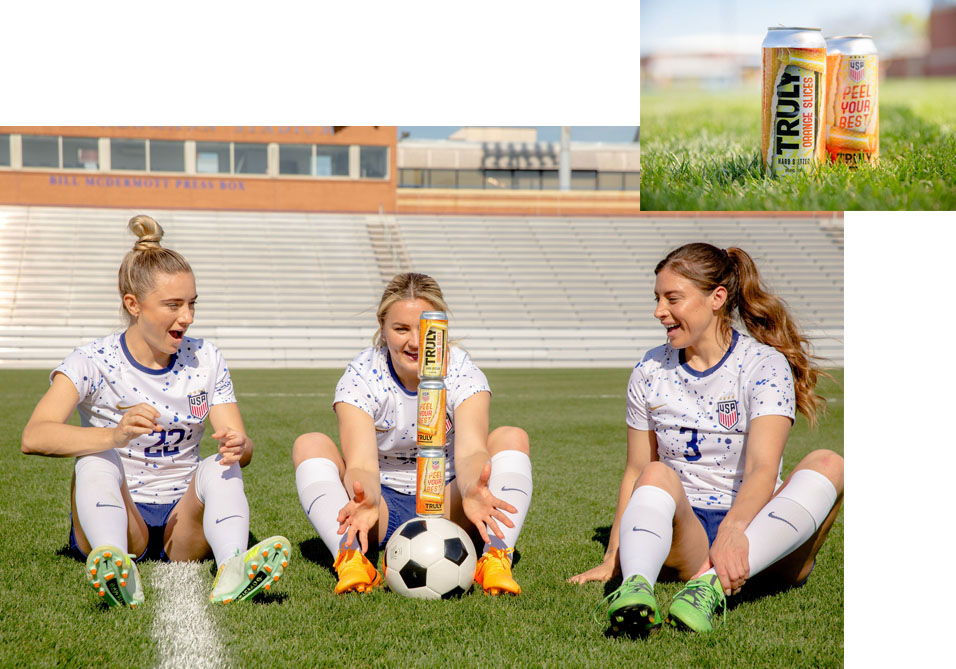 BOSTON, July 18, 2023 Truly, the Official Hard Seltzer of U.S. Soccer, is elevating the fan experience as the U.S. Women's National Team begins its quest to clinch a three-peat win Down Under. To kick off celebrations, the brand is introducing new ways for fans to stay refreshed all tournament long.
Starting today, as a tribute to a generation that grew up playing soccer and enjoyed orange slices as a go-to halftime snack, Truly will introduce Truly Orange Slices in custom 16-ounce 4-packs. Truly Orange Slices will be available for purchase while supplies last during the world's biggest women's soccer tournament. With hints of orange and other citrus flavors, Truly Orange Slices delivers a light, bright, refreshing experience wrapped in team spirit that takes drinkers back to simpler times on the soccer field and big dreams for a W. This festive, limited time flavor will champion fans as they tune in around the world, and as a bonus Truly will host their own special events and engage in new partnerships to further celebrate this summer's biggest moment in sports.
"Truly is the drink of choice for a younger generation – a generation that grew up cherishing the quintessential orange halftime refreshment and looking up to early USWNT changemakers. Truly Orange Slices is our way of uniting fans and capturing the nostalgia of our best days on the soccer pitch as we cheers to the inspiring future of the sport," said Matt Withington, senior director of marketing for Truly Hard Seltzer. "This is a milestone moment in our first year as the Official Hard Seltzer of U.S. Soccer, and we're excited to bring fans together and give them a taste of victory."
This summer, soccer fans will also have the opportunity to show and sip their support by raising a toast with a U.S. Soccer crested 24-ounce Truly Wild Berry in hand. The U.S. Soccer crest will also appear on 12-ounce Mixed Berry packs, giving fans to the option to easily carry around and sip with friends all summer long. Additionally, Truly is inviting fans to celebrate stateside with the U.S. Soccer x Truly Bar Network or Down Under with the American Outlaws, the largest U.S. Soccer fan coalition.
Truly Orange Slices
Wrapped in an eye-catching, U.S. Soccer crested can with celebratory soccer sayings, Truly Orange Slices will keep fans cool and comfortable during the biggest soccer moments this summer – much like the U.S. Women's National Team's backline throughout the global tournament. Fans interested in reviving memories of cherished halftime refreshment while cheering on the three-peat can find Truly Orange Slices exclusively at Give Them Beer and Truly L.A., sold in specially marked 4-packs of 16-ounce cans. Packs will retail for $23, in honor of the 2023 tournament and 23-player roster. Plus, one lucky drinker will be eligible to receive a 2023 U.S. Women's National Team jersey with their order. To learn more, visit givethembeer.com/products/TrulyOrangeSlices.
Tune In with Truly
It may be winter Down Under, but Truly is heating up the fun at its home of innovation, Truly L.A., where Orange Slices, specialty Trulixirs, and game day bites pair well with every USWNT match. Follow @trulyla_ for events schedule all month long, including soccer-themed movie, trivia, and game nights. Looking to catch a match with fellow fans somewhere else? U.S. Soccer and Truly recently introduced the Truly Bar Network, a one-stop-shop for fans looking to support the U.S. National Teams all year long with an interactive map.
Whether following the tournament online or tuning in live with fellow supporters, Truly will be everywhere. In addition to product and party integrations, Truly will celebrate the lighter side of life and professional soccer. Digital content featuring roster Captain and Midfielder Lindsey Horan, Defender Sofia Huerta, and Midfielder Kristie Mewis, will debut alongside co-branded merch drops and targeted media placements.
Truly x American Outlaws
To give fans traveling Down Under a taste of home during the tournament, Truly has joined forces with American Outlaws, the largest official supporters group of the U.S. National Teams. U.S. fans in Australia and New Zealand can enjoy good company and great drinks at the American Outlaws Game Days pre-match parties presented by Truly. As the official pregame destination for USWNT fans, parties in Aukland, Wellington, and Sydney will include giveaways, Truly samples, and a united march to the match as the USWNT is on the road to a three-peat. Follow @americanoutlaws for more information.
For more information on the Official Hard Seltzer of U.S. Soccer, visit TrulyHardSeltzer.com and follow Truly on Twitter, Instagram and Facebook. As always, please drink responsibly.
About Truly
An original hard seltzer, Truly has paved the way for an entire category since 2016 as the most innovative beyond beer experience. The brand continues to keep its finger on the tab of what drinkers want: a great-tasting, sessionable alcoholic beverage without the fuss. Truly believes life can be more refreshing when we can be real, let loose, embrace imperfection, and allow ourselves to be free from convention. That's why Truly has something for everyone in more than 30 unique flavors including three lightly flavored mix packs (Berry, Citrus, and Tropical), three bolder flavor mix packs (Lemonade, Margarita-Style, and Punch), plus limited-edition mix packs. In 2022, Truly introduced Truly Flavored Vodka and its first spirits-based seltzer, Truly Vodka Soda. To learn more, visit trulyhardseltzer.com, follow Truly on social media, or experience Truly for yourself at the home of innovation in Downtown Los Angeles at Truly L.A.
About Boston Beer Company
The Boston Beer Company, Inc. (NYSE: SAM) began in 1984 brewing Samuel Adams beer and the Samuel Adams brand is currently recognized as one of the largest and most respected craft beer brands. Our portfolio of brands also includes Truly Hard Seltzer, Twisted Tea, Angry Orchard Hard Cider, and Dogfish Head, as well as other craft beer brands Angel City Brewery and Coney Island Brewing. For more information, please visit our website at www.bostonbeer.com, which includes links to our respective brand websites.