In Partnership with Zero-G, Truly is Elevating Fans' Summers With First-ever Weightless Drinking Pop-up Experience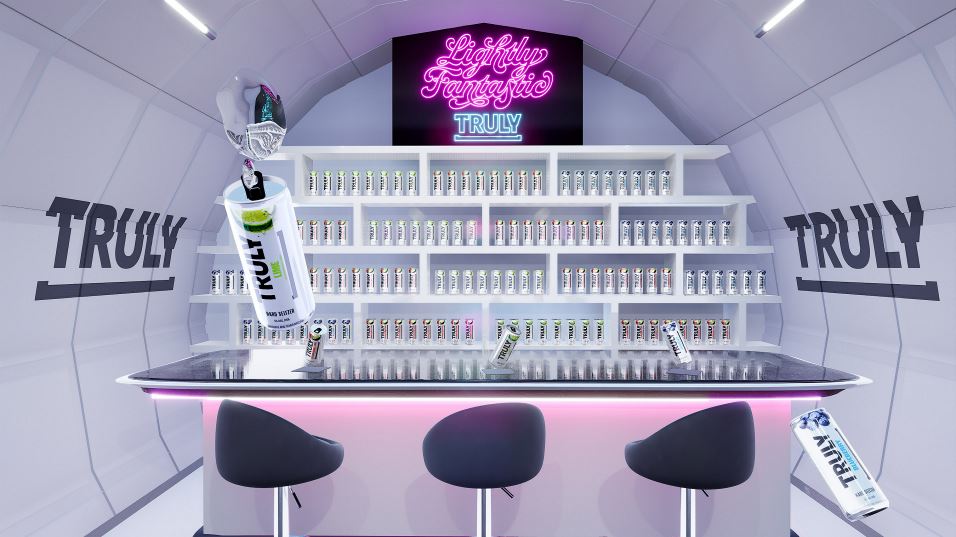 Boston Beer Company's Truly Hard Seltzer, a leader and innovator in the hard seltzer category, is taking seltzer season to new heights by launching the first-ever Zero-G drinking experience with the Truly Zero Gravity Bar. Drinkers will experience the light, fun, and refreshing flavors of Truly while they sip, float and flip at 32,000 feet in the same zero gravity environment utilized by astronauts. The one-of-a-kind pop-up bar will bring the brand's "Lightly Fantastic" creative campaign to life, celebrating the joyful feeling that Truly gives you and the lighter side of life. This once-in-a-lifetime adventure takes off this summer.
The Truly Zero Gravity Bar will be built inside a specialized Boeing-727 "G-Force One," operated by Zero-G; – world leader in zero gravity flights – and serve a variety of Truly Hard Seltzers, including beloved favorites like Wild Berry, Pineapple, Citrus Squeeze, and more. On board, passengers will experience how 'Lightly Fantastic' drinking Truly can be, while walking across the ceiling, soaring through space, and seeing their Truly cans and hard seltzer float before their eyes.
Truly fans craving a bucket list experience and access to the most exclusive mile-high hard seltzer bar in history can enter to win a reservation on board the Truly Zero Gravity Bar through July 24, 2023. To enter, Truly drinkers can visit TrulyZeroGravityBar.com and tell us why drinking Truly makes them feel 'Lightly Fantastic.' Submissions will be evaluated on imagination, originality and most importantly, their love for Truly and desire to experience the Truly Zero Gravity Bar. Five winning fans and their guests will score a reservation on the chartered Truly Zero Gravity Bar flight on August 28 from Long Beach, CA plus two-nights lodging, five-hundred dollars spending cash and a post-flight reception at Truly's home of innovation, Truly L.A. Entry is open to all U.S. residents 21+. Full rules can be found here.
"At Truly, we believe in embracing the lighter side of life, whether that's crafting the most refreshing flavors or creating unforgettable, unique drinking experiences for our fans," said Matt Withington, Director of Marketing at Truly Hard Seltzer. "In celebration of our newest Lightly Fantastic brand platform, it only made sense to go above and beyond with the world's first-ever Truly Zero Gravity Bar. There's no better way to remind fans that drinking Truly should be light, fun and joyful than literally defying the laws of gravity with a Truly in hand."
Fans who don't score a reservation at the Truly Zero Gravity Bar can still experience the 'Lightly Fantastic' lighter side of life with Truly this summer and beyond, with a range of new styles including the brand's first spirits-based seltzer, Truly Vodka Soda, the nostalgic, limited-edition Red, White & Tru Truly Hard Seltzer mix pack and new Truly Flavored Vodka flavors, Blood Orange and White Peach.
For more information on Truly Hard Seltzer, visit TrulyHardSeltzer.com and follow Truly on Twitter, Instagram and Facebook for additional details. Please drink (and float) responsibly.
About Truly
An original hard seltzer, Truly has paved the way for an entire category since 2016 as the most innovative beyond beer experience. The brand continues to keep its finger on the tab of what drinkers want: a great-tasting, sessionable alcoholic beverage without the fuss. Truly believes life can be more refreshing when we can be real, let loose, embrace imperfection, and allow ourselves to be free from convention. That's why Truly has something for everyone in more than 30 unique flavors including three lightly flavored mix packs (Berry, Citrus, and Tropical), three bolder flavor mix packs (Lemonade, Margarita-Style, and Punch), plus limited-edition mix packs. In 2022, Truly introduced Truly Flavored Vodka and its first spirits-based seltzer, Truly Vodka Soda. To learn more, visit trulyhardseltzer.com, follow Truly on social media, or experience Truly for yourself at the home of innovation in Downtown Los Angeles at Truly L.A.
About Boston Beer Company
The Boston Beer Company, Inc. (NYSE: SAM) began in 1984 brewing Samuel Adams beer and the Samuel Adams brand is currently recognized as one of the largest and most respected craft beer brands. Our portfolio of brands also includes Truly Hard Seltzer, Truly Vodka Soda, Twisted Tea, Angry Orchard Hard Cider, Dogfish Head, Hard Mountain Dew, and Jim Beam Kentucky Coolers, as well as other craft beer brands from Angel City Brewery and Coney Island Brewing. For more information, please visit our website at bostonbeer.com, which includes links to our respective brand websites.
About Zero-G
Zero Gravity Corporation ("Zero-G") is the world leader in zero gravity flights. As the first and only FAA-approved provider of zero gravity flights, Zero-G does it all: Astronaut training; scientific research, corporate incentives, filming, and even public flights.
With a spotless safety record over the past 19 years, Zero-G has made the excitement and adventure of space accessible to the general public. Whether you're a training astronaut, a scientist conducting groundbreaking research, or a civilian pursuing a lifelong dream, it all starts in the same place–with Zero-G.
To learn more about Zero-G, visit gozerog.com
Media Contacts
Christina Panta, 703-473-6806, cpanta@golin.com
Brittany Zahoruiko, 617-368-5395, brittany.zahoruiko@bostonbeer.com